Satellite Master Antenna Television System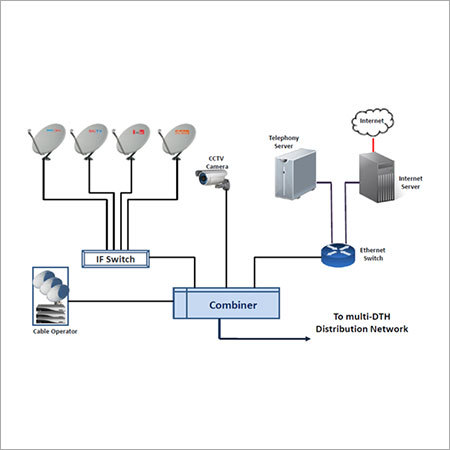 Satellite Master Antenna Television System
Product Description
Cold wire Technologies Private Limited is one of the leading manufacturers and suppliers of top-quality Satellite Master Antenna Television System that is designed to deliver non-interrupted network signals from satellite to your TV antenna systems. It is installed with various premium class equipment for efficient and controlled functioning. Its easy integration with CCTV systems makes it highly demanding and popular among our customers. Get this advanced Satellite Master Antenna Television System from us with a supply ability of 1 unit per week.
Features :
Delivers multiple satellite TV services via single cable to the room.
Completely concealed cabling.
Significant cost savings on installation & upgrades.
Designed network guarantees high quality signal at all TV points.
Larger dish ensures minimal rain fade.
Supports all satellite pay and free-to-air DTH services in India.
Easy integration for CCTV (Closed Circuit Television) Cameras.
Integration for High Speed Internet.
Enables connectivity for local digital cable.
Expandable for unlimited number of satellite receivers.
Fully transparent for all value added satellite services.
DD Direct + channels can be received without subscription (Free view).
Plug and Play service.